Letter from the Owner
From: Elmore McConnell
We Train Atlanta
Atlanta Personal Trainer
Date: Oct 2, 2015 11:51AM
Dear Friend:
Do you have time to watch TV but are convinced you have no time for fitness?
Do you long to wear clothes that look good on you and make you feel sexy?
Are you convinced you don't need any help losing weight and exercising, but never manage to lose a pound?
If this is you, then you need an Atlanta personal trainer who will help you burn fat fast while helping you fit exercise into your busy life!
---
My name is Elmore McConnell. I've been an Atlanta personal trainer for many years. I enjoy helping people transform their bodies from flabby and unhealthy to fit and energetic. There's nothing more satisfying than seeing my clients achieve the weight loss and fitness results they're hoping for.
But it wasn't always that way…
Some years ago I worked in Big Box gyms that pushed memberships. That's right. Just memberships. People would come to these well-known gyms for expert training only to see their hard earned money go…to memberships. They weren't getting results because the only thing those Big Box gyms trainers were concerned with was getting people to sign on the bottom line.
That's not what I'm about. And I never will be. I became a personal fitness trainer because I wanted to help people achieve good health and fitness so they could live the life they deserved. That's why I opened We Train Atlanta!
So what makes We Train Atlanta different from other Boot camps and Big Box Gyms?
Flexible options – In home, boot camp or studio personal training
Variety – you'll never do the same workout
Results – A professional , "No Excuses" quality guarantee
Convenience – we work around your schedule
Enthusiasm and High Energy – we get the job done and we enjoy what we do!
My vision is to teach you everything I know about fitness and weight loss to a point that you will be able to teach and train your family and friends.
---
Get the Sexy Body You've Always Wanted and Get Healthy!
---
You see, I grew up in the South and saw firsthand how eating the wrong foods and being sedentary can lead to long term medical problems and even death! Both of my grandparents were diabetics who had heart disease, high blood pressure and high cholesterol. The last thing I wanted for me and my parents was to follow down that same path.
I wanted to achieve good health and have energy to enjoy my life. That starts with choosing a healthy lifestyle of eating the right foods and integrating exercise into my daily routine.
You may not be worried about your health…right now. Maybe you're trying to find that pre-pregnancy body you used to have. Or you have unsightly areas of your body that make you cringe when you look in the mirror. You know what I'm talking about…
Lunch Lady arms
Jiggly belly
Thunder thighs
Sagging buttocks
Double chin
Rolls of back fat
No one likes to look in the mirror and not see a reflection that fits what they feel inside. But it doesn't have to be that way. You can look better in your new body no matter how old or young you are! Be healthier. Feel sexier! If you've been longing to be able to get back into that sexy black dress or get that beach bikini body you used to have in college, We Train Atlanta can make it happen!
If you've ever tried a FAD diet or joined a Big Box gym then I know you've been disappointed in the results (or lack of them) from the program. I want you to forget about all that. Let's wipe the slate clean and start from scratch with a program that is healthy and is guaranteed to help you burn fat and keep it off for life!
You've seen what other We Train Atlanta clients have had to say. But I realize you may still be a little skeptical. So here is my guarantee to you…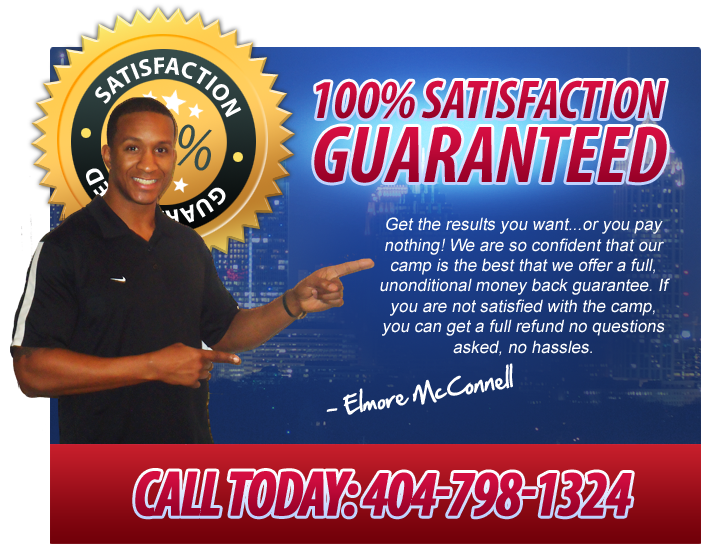 ---
Isn't it time you invested in your health and overall fitness? If you can make time for a few hours of TV each week, you can make time to lose weight and get your body back in shape for life! I can help make that happen! But you have to take the first step.
Join We Train Atlanta today by calling 404-798-1324.
Sincerely, Elmore McConnell


Owner of We Train Atlanta
Atlanta Personal Trainer
PS. Do you want to feel sexy, look 10 years younger and capture the attention of the opposite sex? Then you need to work with the Atlanta personal trainer who can make that happen. Join We Train Atlanta today!